Bulkdozer − Bulk order update (status, notification, tracking)
Bulk Update Order Status and Tracking Number And Shipping Company Right From The Order List Page
---
Update orders status to any status
Update orders tracking number and company. This feature requires the powertrack extension. Please make sure you have powertrack extension.
Enter the tracking number and tracking company
Send email notification and SMS. SMS notification feature requires smshare extension.
---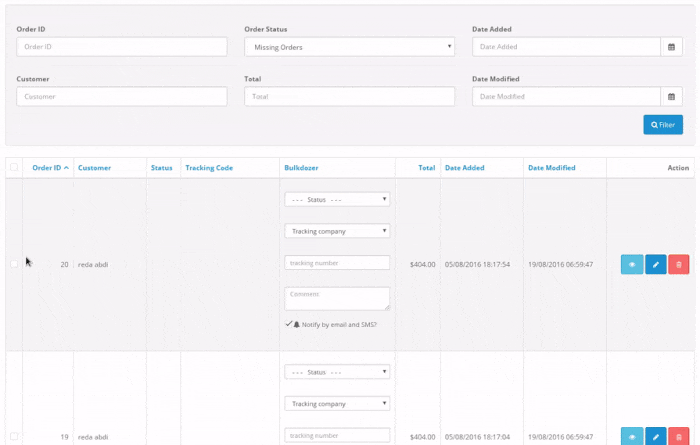 ---
And here is a video showing the "duplicator" feature of bulkdozer
---
---
REQUIREMENTS
---
VQMOD or OCMOD
Powertrack: This is the main module that give you access to shipping companies.
Smshare module: Optional. Needed only if you want to notify customer by SMS.
---
DEMO
---
Username: admin
Password: admin
---
INTEGRATIONS
---
Some customers reported that it works with "Professional HTML Email Template" developed by opencart-templates
---
Product Code: bulkdozer-oc2
Tags: backoffice extension